7 Ways to Improve Your Essay Writing Skills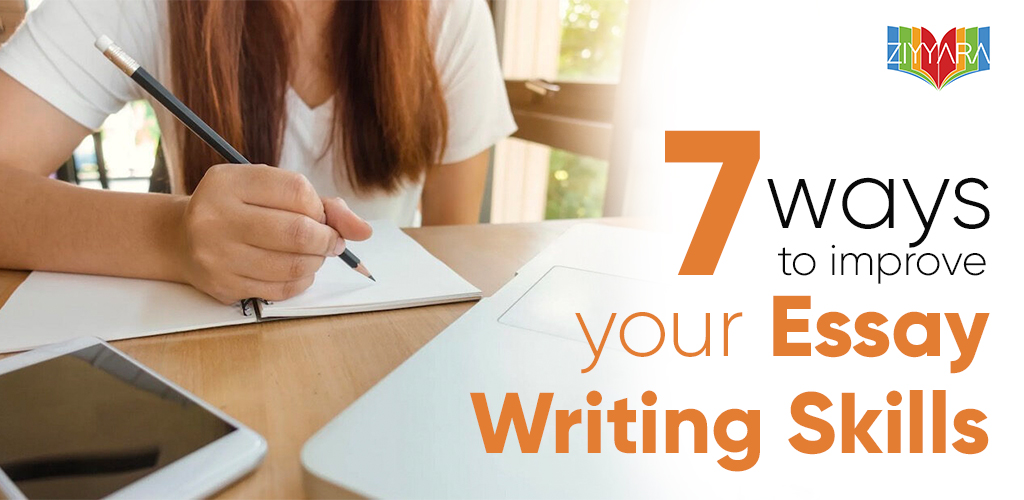 Post On. <->17-June-2022->
Get Free Demo for Online Tuition
Online home tuitions are an ideal way of enhancing your essay writing skills. Essays are important. A student needs to write one whether appearing for an English exam or any competitive exam.
Many students are determined to improve their writing skills. However, not all can achieve this goal without proper guidance. It is where the role of online tutoring comes into play. Our prestigious online education platform has the best English tutors.
Online tuition classes at Ziyyara can make you proficient in writing. A student should be able to think critically to write the best essays. Our tutors ensure that you develop critical thinking abilities.
In addition, they help you in 7 different ways to augment your essay writing skills. Every student who studies from our online tuition teachers ensures implementing these seven tips.
1. Read As Much As You Can
A student can never be sure of the essay topic appearing in the exam. There is no other solution to this problem other than reading.
Usually, you will find topics for your essays related to current affairs. Online tutoring involving one-to-one interaction with our tutors, makes you aware of the current events.
Generally, geopolitics, environmental issues, etc., are crucial essay topics. So, reading as much as you can about them will be fruitful for you.
Our online home tuition teachers ensure,
● They make you go through noteworthy changes.
● You understand their impact on the people and nations.
● They provide you with additional information on such happenings. It helps you gather material and also stimulates your thinking. You can use these resources to write some remarkable points in your essay.
2. Practice Essay Writing Every day
Most of us know that practice makes one perfect. However, a majority of students fail to implement it. Regular writing practice can become a part of your schedule if you learn at our online tuition classes.
Our online tuition teachers take every possible step to perfect your writing skills.
● They ensure they give you a worthwhile essay topic every day.
● Our tutors go through your essays and tell you about your shortcomings.
● Online tutoring with them helps you work on your writing imperfections.
3. Think Outside the Box
The best way to score well in essays is to write unique things. No one likes to read repetitive things over and over again. Online home tuitions can expand your horizons of the mind. The best thing about studying with Ziyyara is that you can do it at a very affordable price.
Here is how you can develop improved thinking in our online tuition classes.
● Our tutors ensure you don't write the same thing every day.
● They teach you how to view one thing from a different perspective. It is a bonus to add to your essay writing skills.
● They try to bring out the best of your creativity so that writing does not get boring. Eventually, you can write better essays and witness peace of mind.
4. Get Someone to Review Your Work
Judging your work on your own can be complicated. It can be tough to figure out your weak spots. However, getting someone's help from online tuition classes can help reap the desired fruit.
Our tutors are proficient and fluent in English. They offer you live sessions to help you figure out where you lag.
● They check for any grammatical errors or any other shortcomings.
● Our online tuition teachers conduct doubt-clearing sessions. You can get their assistance for any conceptual clarity in these sessions.
● They ensure you think of new ideas and include them in your essays. It makes your writing appealing and grabs the reader's attention.
5. Be Clear of Your Essay's Structure
One mistake all students make is not planning the essay's structure before starting it. Such a mistake can make it look haphazard.
The absence of a proper structure in your essay leaves it looking like a few thoughts jotted down. Online home tuition teachers begin teaching you well-structured essay writing skills.
Before commencing your essay,
● You can build an outline about how you are going to structure it.
● You can decide how many words you will write in subsequent sections if it has a word limit.
● Finally, you can begin writing and conclude it with appealing closing comments.
6. Learn From Your Mistakes
Getting expert help from our online tuition teachers can help you learn from your mistakes. Writing an essay can be challenging if you don't learn from your mistakes.
The positive learning atmosphere with our tutors makes working on your mistakes easy. The live interaction and the freedom to ask questions are a few added advantages for our students.
Besides,
● Our online home tuition teachers offer you the flexibility to choose a class timing. You can coordinate with them and work on your mistakes at a suitable time.
● They also endeavor to help you add new words to your vocabulary.
7. Read Actively
Undoubtedly, reading every day is crucial to developing good essay writing skills. However, actively reading can benefit you in judging the topic's relevance.
Online tutoring experts help you go through other people's essays. They acquaint you with their writing style.
Once you start active reading, you will be able to rate the persuasiveness of their arguments. You can implement the things you learn in your essays.
Final Words
Good essay writing skills are not rocket science. A student only needs to be cautious of a few things.
Online home tuition with our tutors is the best way to start this journey. Learning from them will not leave you disappointed. You will witness positive changes in your essay writing skills under their guidance.
Skills take time to develop. However, the process speeds up under proper guidance. Enroll with us today to get help from our essay writing experts. They will help you experiment and bring the best out of you.