Things To Remember While Choosing Stream After 10th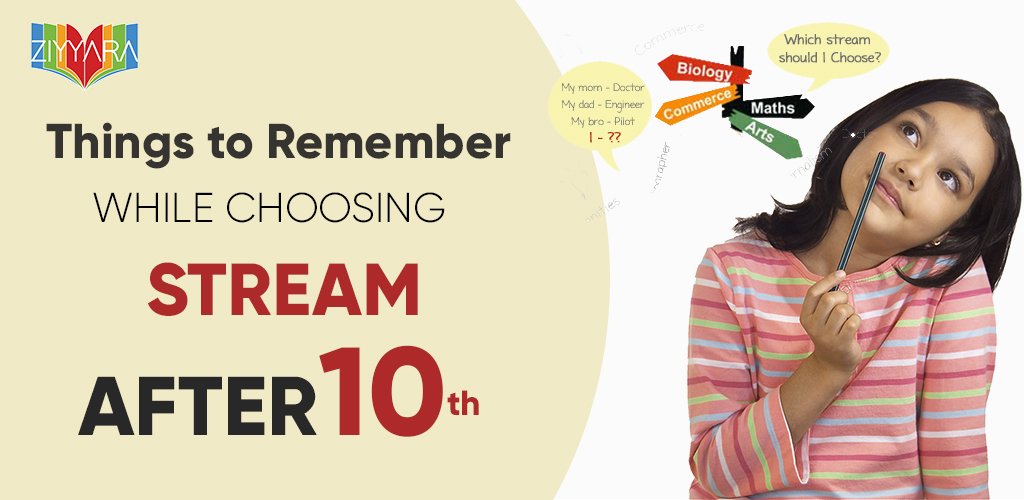 Post On. <->25-Feb-2022->
Get Free Demo for Online Tuition
Online learning has made it easier for students to pass their tenth standard with flying colours. Students can get access to the world-class teaching infrastructure with online tuition classes. It helps them give their best in class 10 board examinations. However, the real dilemma steps right inside the mind of students after their 10th standard i.e. the dilemma of choosing a stream.
Many students choose a stream that is altogether different from their interests. Online home tuition teachers at Ziyyara can help you choose the right stream after your 10th standard. Students should remember that the stream they choose will decide their future. Therefore, it is the most crucial decision of their lives, and they should pay utmost attention to it.
Let's find out why it is significant to decide your stream wisely and how online tutoring can help you.
Why choosing the right stream is critical
Have you ever met someone who has landed himself in a loathing spot in life? Many people are in that position because they took up the wrong things in life. If you don't want to fall prey to such a situation, our tutors can help you through online tuition.
It is crucial that you choose the right stream for yourself after your 10th examination. It will help you get your dream job and lead a satisfying life. Many students are not aware of their passion and become incapable of making the right decisions. Online education with us can help you explore your areas of interest and passion.
As a student, you should protect yourself from getting yourself in a stream that does not fit you right. Our tutors for online tutoring can help you reflect on your potential. They can guide you about choosing the right stream after your 10th. With their help, you can inculcate the habit of making the right decision from an early age.
Here are a few things that you should consider before choosing a stream after the 10th standard
Pay attention to your aptitude, strengths, and weaknesses
Every student has a different calibre when it comes to studies. Online home tuition can help you excel in your weak subjects. You can secure good marks in subjects you dislike by paying utmost attention to them. If you hate maths or physics at your class 10th level, you can still score good marks through online education. However, if you take up a non-medical stream after your board exams, you could make things complicated.
Before choosing a stream, you should assess your aptitude, strengths, and weaknesses. Selecting a stream that aligns with your passion is the way to go. Online learning with our tutors can help you determine your strengths and weaknesses. You can choose a subject that you think will help you reach your career goals.
If you are determined to become an engineer or a doctor, you can choose a relevant stream for yourself. A student should be sure of his strengths in these areas of study.
Sometimes, the determination of the student overpowers his weakness. It is easy to get past your shortcomings if you are determined to do so. In such a case, online tuition classes can be of great help to you.
Research everything about the stream
Choosing a stream after the 10th standard can baffle many students. Some students take up a stream without researching the syllabus and the growth prospects. Research is the foremost step in stepping up in life. It will involve just a few moments of your time that can save you the years ahead. Online tuition tutors can explain these things to you in the most understandable way.
If you want to take up the medical stream after your 10th class, you should research it. The same holds for non-medical, arts, and commerce. You don't want to get yourself into something difficult for you to handle.
You can dig deep into the syllabus of your preferred stream and decide if you can do it. You can always take the help of our tutors at online tuition classes. But, you should also be aware of your potential to avoid stressful situations. Many students cannot perform their best because they get burdened with the extensive syllabus. Arts or commerce is the best option if you aren't ready to cope with the syllabus of medical or non-medical.
Consult your education counsellor
It may sound cliche, but it can actually help select the right stream. Online home tuition teachers can help you with this process. Many students do not have the privilege of getting counsel from an experienced counsellor or a teacher. If you have access to a good counsellor, you can definitely use this opportunity. An experienced counsellor will understand you completely and help you select a perfect stream.
Our tutors for online education are always willing to guide the students in the right direction. Their years of experience have perfected their capability of understanding the student's needs. With their online tuition classes, you can find what's best for you.
Don't follow the herd
After your 10th standard, don't choose a stream just because your best friend is opting for it. That is the worst thing a student can do to himself. You may not be as good as your friend in economics or accounts. On the other hand, your brain could function to its maximum potential when it comes to physics or mathematics. You won't do yourself justice if you follow the crowd ignoring your potential.
Online tutoring can help you identify your skills and interests. Accordingly, you can choose a stream for yourself. It is the most crucial decision of your life, and you should avoid getting influenced by your friends.
A student should also think of the factors that will keep him motivated throughout the entire duration of the course. Make sure that your decision about choosing a stream justifies your passion, interests, and skills. Don't do it just because your friend asked you to do so.
Hold discussions with your parents and teachers.
Your parents and online home tuition teachers can easily judge your inner strengths and weaknesses. So, taking their help to decide a suitable stream is another way to go.
Your parents and tutor for online education considerably influence your decision-making. However, a student should refrain from choosing a stream because it gets imposed on him/her. He should not ignore his passions and interests for the sake of his parents' approval.
If you select a stream reluctantly, it will not let you live a prosperous life. It will only bring you dissatisfaction and unease. So, a student must make it a point to get into a healthy discussion with his parents and online tuition teacher. Expert guidance will help you make something better of yourself by choosing the right stream after the 10th standard.
Let's wrap it up!
It is crucial that after the 10th standard, you choose a stream that perfectly matches your strength. Online tutoring can help you discover your strengths and weaknesses. You can analyse these strengths and weaknesses to help you find the right stream.
There are a lot of opportunities in every field. However, you can tap them only when you put your heart and soul into your studies. You can do that only when you choose what makes you happy and motivated to study. You can take the help of your online tuition teachers to explore your potential. Also, make sure that you consult with your counsellor and parents before finalising a stream. Don't follow the crowd, instead follow your interest and passion in your life.
About Ziyyara
Ziyyara is best Online tuition website, we provide online coaching classes for 1st to 12th grade CBSE IGCSE ICSE & online language classes globally such as Online English Language, Online Arabic Language, Online Spanish Language, Online German Language, Online French Language, Online Hindi Language, www.ziyyara.com is an online tuition & language website teaching students & professionals online.
2018-2021 © made by Ziyyara Team