Corona lock-down & how Ziyyara online learning can help?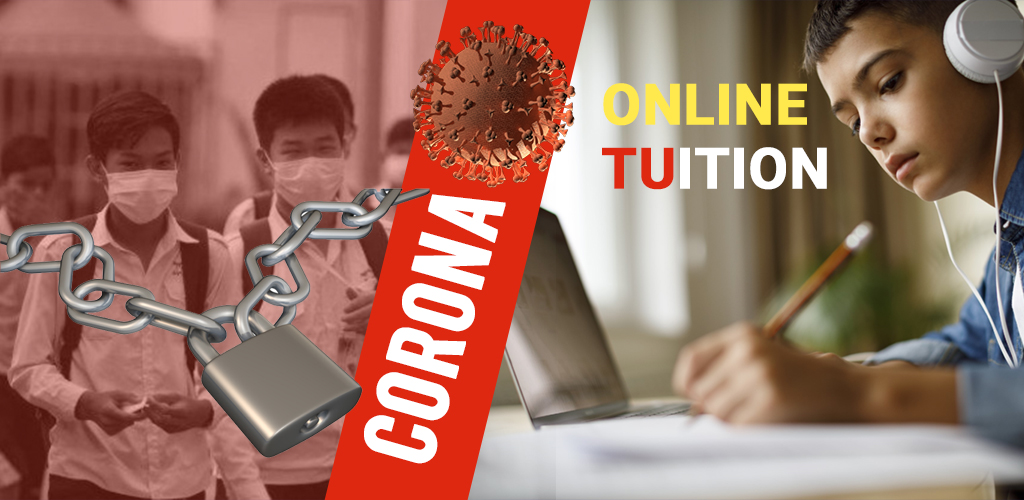 Post On. <->28-Sep-2020->
Get Free Demo for Online Tuition
It is no doubt that the world we live in is changing fast.
Rising populations, increasing crime rates and climate change continue to change the landscape that we live in. The new fear we face at the top of our minds is about coronavirus. Italy is on lockdown, India is closing its borders, statistics and reports about the spread of the virus alongside advice on how to protect ourselves from it continue to fill our media feeds, and we watch from the edge of our seats in fear, waiting to see what happens next, hoping we will survive this.
Our homes have become more than the foundations from which we grow from. Today more than ever our homes have become the safe haven where we are protected from dangers in the world.
The growing fear of coronavirus has changed things, with borders increasingly shutting down to reduce the number of people gathering in groups. The workspace has shifted to home, 39 countries have thus far closed their schools, people are advised to stay isolated and indoors unless absolutely necessary.
While the education of our youth, at least from formal school establishments, has been temporarily halted, it doesn't mean that we cannot continue to educate our youth in other ways.. let's not forget we still have access our phones, computers and the internet, and in the midst of this crisis, where actual human contact and gatherings is ill advised, this is a wonderful thing indeed.
They say every cloud has a silver lining. So coronavirus has made you a prisoner in your own home, now what?
Now, you have more time to focus on all the things you need to do. Sharpen the skills you need to sharpen. Learn to play piano, guitar or the violin, read that book you never got around to reading, finally get around to implementing 20 minutes of meditation in your mornings.
And while students might be celebrating the temporary shutting down of schools, there is still a curriculum and a schedule to follow. You still need to finish high school to follow that shiny career as a tech guru, kiddo!
High school and university students understand the pressure involved in keeping on track with the school curriculum, the classes, readings, research and countless hours spent studying just to keep up with the fast paced schedule, with time usually running faster than you can catch it, 'I wish I had more time,' is a phrase all too often heard before that unfinished essay or unprepared for exam.
Guess what? You have more time now. Let's not waste it.
For all you high school and university students, you have the time to sharpen your skills, to strengthen your knowledge in whatever topics of your choosing, you now have the opportunity to ace your subjects -no excuses! So when the crisis is over you might rock up into the classroom and ace those algebra equations you once found impossible, or submit that fine-tuned research essay on the evolution of humanity or the impact of social media in the commercial industry (I can't wait to read it!), and with access to extensive online libraries, you are absolutely unstoppable!
But when it comes to education -what about the human connection which is better able to explain the things you don't understand? What about the one on one discussions which will realize exactly where you are to guide you towards better understanding on a particular subject?
This is where Ziyyara steps in.
As an online platform with access to the best teachers worldwide across various topics, from maths, english, the sciences of biology, chemistry, physics, calculus. Ziyyara covers all the topics you can think of, and links you with the best teachers available across the world to learn from.
Whatever your subject is -this is the time to learn the things you need to to stay on track with the curriculum, or to stay on track with your life. It is a unique opportunity for you to learn the things which spark your interest, follow your dream, pursue a hobby.
Ziyyara is here to help you every step of the way, whether you have one question about a particular subject, or you want to tackle the entire subject in multiple sessions (we recommend this). With Ziyyara you are not alone. Although stuck at home under coronavirus lockdown, Ziyyara gives you access to a world of intellects and professionals at your fingertips. You have the means to ace even the most complicated subjects.
To answer your questions and shed some light and understanding upon your journey of knowledge is our priority.
We understand that everyone's learning style is different and so we provide you with the opportunity to pick the teacher who's method best suits your style of learning for maximum efficiency. Sign up with us and have access to a vast number of teachers worldwide across various subjects and professions.
What are you waiting for? Join Ziyyara and get smarter today.