Online Tuition on the Rise Among the Middle Class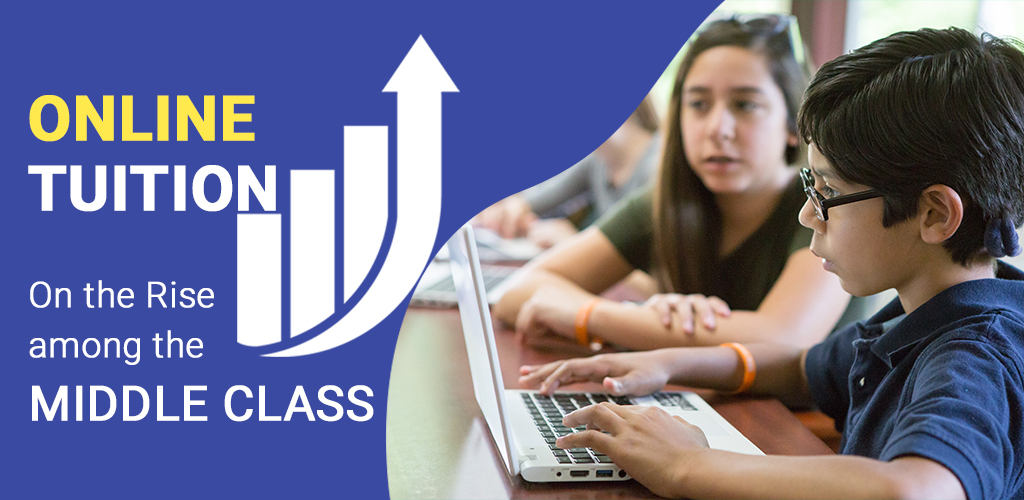 Post On. <->15-Jan-2021->
Get Free Demo for Online Tuition
Education is considered to be very important for children as it adds to their knowledge and skills that are required essentially for the career of the children. For the middle class parents especially, education of their children is a big responsibility as they want their children to get a secure future. Middle class parents are seen spending a lot of money on the education of their children. They send their children to the best schools and even to tuition centres so that the children do not lag behind in any subject and are able to perform the best in their examinations.
However, with changing times and evolving technology, the manner in which children learn has changed. Today, children have overcome the traditional learning methods in schools as well as tuition centres. The traditional way of teaching and learning has almost gone for a toss and has been replaced by smart-boards, interactive classes and virtual learning. This trend is furthered by the increasing popularity of online tuitions.
Online tutoring is a teaching practice wherein the children virtually. Online tuitions are made possible with the help of an internet connection and a laptop or any mobile device. A wide range of technological tools like video conferencing, email and audios are used for communication between the tutor and the student. With the increasing competition and most middle class parents wanting their children to make it to the top list of students in the class, the demand for online tutoring is further increasing.
There are several online tutoring platforms that are made available to students in India and Ziyyara happens to be a leading one. This online education and tutoring platform offers online tuitions to students from different backgrounds. Ziyyara offers affordable online coaching to students from the best tutors who are experts in their field of knowledge and subject area.
In fact, it is the middle class students who make use of online tuitions the most. There are reasons why online tuition is one the rise among the middle class :
One-to-one learning: Middle class parents want their children to get undivided attention from the teachers whether it is in the school or at the tuition centre. This is however not possible in schools or coaching centres where a large number of students are taught together. In this case, one-to-one learning via online tutoring seems to be a better option. With one-to-one tutoring in online tuitions, the tutor not only listens to the problems of the students but also responds in an active manner. One-to-one learning also requires the child to focus only on what is being taught as there are fewer distractions which in turn facilitates better learning.

High quality education: One of the reasons for the rise of online tuition among the middle class is the fact that it offers high quality education. Students need to score increasingly well in their exams and for this high quality education is very important. For the middle class parents, online tuitions offer the best tutors who know their subjects well at affordable prices and therefore they want their children to take virtual learning classes.

Flexibility: With online tuitions, students can study at flexible hours or hours of their choice. Most online tutors teach at a time that suits the students. This makes it easy for students to indulge in other activities as well. On the other hand, the students who take tuitions for coaching centres are required to follow a strict time schedule which makes it tough for them to be involved in other social or physical activities.

Overall growth of the children: The parents of the middle class want their children to excel in all aspects of life and with coaching centres this is not possible. Students who go to coaching centres need to stay at these centres for long hours after school and hardly get time for anything else. With online tuitions however, the students can take part in extracurricular activities and also spend time with their family and friends. This in turn helps in the overall growth, development and grooming of the children.

Boost in self-esteem and confidence: Online tuitions are not only means of teaching students to perfect their subjects. In fact, an online tutor acts as personal guides and mentors to the students and helps them to solve their problems. The online tutors usually listen to the problems that students face and are not able to discuss these with anyone else. This in turn helps the students to boost their self-esteem and confidence as they feel motivated to face their challenges and issues in a brave manner.

Cost benefits: Online tuitions are on the rise among middle class because of their cost benefits. Online coaching is offered at a more affordable cost as compared to traditional coaching. This makes most middle class parents opt for this method of making their children learn in an effective manner.

No pressure and safe: Online tuitions are a safe means of helping children learn. The children do not need to go out of the house and therefore their safety is ensured. Online tutoring also does not put any pressure or stress on the children because children learn in a one-to-one manner. On the other hand, when children go to coaching centres, there is always pressure to outwit their peers or prove to be better than their peers. This in turn may make children take a lot of tensions and stress which adversely affects their growth.
Online tuitions for middle class parents are proving to be a blessing as the parents are assured of the fact that their children get expert advice and help and are being taught by the best of tutors at an affordable price. Ziyyara makes sure that the expert tutors help students from all backgrounds and not just the middle class. However, the parents need to make sure that they opt for the right type of online tuition program and choose best and the most experienced tutors. The parents also need to make sure that they keep an eye on their children when they are studying to make sure that they are not being distracted and learning in an effective manner. As online tuition is on the rise among the middle class, the parents as well as the children are assured of effective learning and gathering the required knowledge in the various subjects. Online tuitions make children competent enough to face their examinations as well as other challenges in life in a confident manner.