Is Your Child Learning?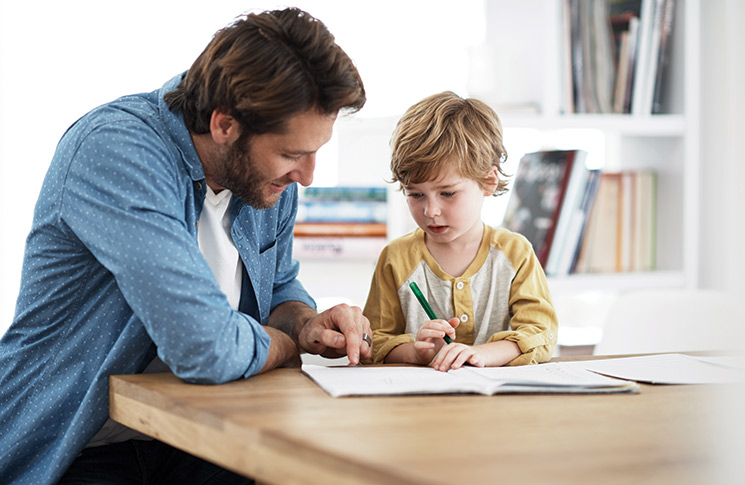 Post On. <->02-May-2019->
Get Free Demo for Online Tuition
Thomas Edison, the prolific inventor, once famously quipped "Genius is 1% inspiration and 99% perspiration". This truism implies that all children, including child prodigies, have to put in a lot of effort for making the most of their innate talent. The universally-acclaimed postulate by Thomas Edison continues to be relevant in the 21st century and will be so for all future generations.
Contrary to popular belief, most of the children who perform better than their peers in school are not born with the aptitude to excel instinctively or automatically. To put things in perspective, nearly 99% of kids are born with the same potential that offers them a level playing field at the starting line. So, how come some kids get ahead in the race (i.e. their academic career) sooner or later and standout from the rest at latter stages?
That the best-performing children were not born performers but became so along the way is obvious. For one thing, there's no denying that a kid's eagerness to learn, to a great extent, depends upon his or her persona and overall temperament. However, teachers and mentors agree that any child or student can turn out to be an excellent learner and perform better given that he or she gets the appropriate learning environment and receives sufficient motivation.
That being said, parents and teachers should look for ways to enable children to learn beyond the four walls of a classroom in order to promote their academic, intellectual, and social development. It's indisputable that the classroom setting will always be indispensable for supporting all-around learning. But teachers and parents should also take think of educating children outside of the classroom if they sincerely want the kids to take an innate interest in absorbing new information.
Ziyyara, a frontline tutorial portal, helps students to understand subjects and topics they cannot comprehend in school. After all in a conventional classroom setting only a handful of students especially the bright ones, grasps the teacher's instructions. It is not possible for the teacher to personally attend to every student to ensure that everyone has understood his or her instructions.
And this is exactly where Ziyyara can help.
At Ziyyara, we recruit tutors with extensive teaching experience who make it easier for students to imbibe concepts and topics that they are unable to understand in a classroom setting. We have outlined the different ways in which our skilled and experienced tutors are helping bridge the teaching-learning-doing gap for facilitating greater engagement between the instructor and the learner.
As a parent you can make the most of these time-honored and long-established guidelines (outlined in the next section) to encourage your child to study and learn.
Use These Techniques for Encouraging Your Child to Study and Learn
Ensure that every moment becomes a moment to explore and learn –Believe it or not, you can make every moment you spend with your child an opportunity for him to explore and learn. As long as you are in the company of your child, always motivate him to observe everything in his immediate surroundings. Teach him to be inquisitive and try to answer all his questions, regardless of how outlandish the posers might be.

Praise and congratulate accomplishments and achievements –Praising and congratulating your child on his accomplishments will surely go a long way in helping him stay constantly motivated.

Teach your kid the significance of staying well-organized and disciplined-Teaching your child to keep his assignments, books, and all other study materials well-organized will make a huge difference to keeping him consistently inspired to learn.

The emphasis should be more on learning rather than performance –You should stress more on what and how your kid is learning rather than how he is doing in exams. Emphasizing more on learning will convey to your kid that you're more bothered about his overall education than just about his performance.

the entire learning experience exciting and enjoyable –Multiple studies and researches have clearly indicated that children learn faster and more effectively when the entire teaching and learning process is made engaging and appealing. In this context, game-oriented learning can benefit students in several ways; game-centric education can help children to develop and fine-tune teamwork, communication, social, and fine motor skills.

Demonstrate that learning can be infectious –The enthusiasm or eagerness to learn and absorb new information can be contagious. When your kid observes that you're passionate about learning, you can rest assured that he will follow suit.

Introduce the child to different learning styles –Like every other child your little one is unique. So it follows that your kid prefers sticking to a specific style or method of learning that best suits him. While some kids find it easier to learn when they follow a judicious blend of learning techniques, others prefer to stick to a popular learning style.

Support your kid in subjects and areas that he or she finds interesting –Stimulate your child to explore at length on subjects and themes that he finds fascinating if you earnestly want him to turn into an effective learner. The whole idea is to make the learning process fun and engaging for your child so that he develops a lifelong interest in learning.

Encourage the little one to express his thoughts and feelings freely- Create a congenial learning atmosphere or environment (both at home and school) where the kid fees free to express and communicate his thoughts, ideas and opinions. You, as a parent or teacher, may not always agree to what the child expresses but you should always defend his right to voice his thoughts and views.

Give your kid the physical and emotional space to learn –Your child might develop a profound disgust for education if you try to control the learning environment excessively. On the other hand, if you "spare the rod", you might end up "spoiling the child". The idea is to find and maintain the sweet spot between too much control and excessive laxity.

For instance, help your child in preparing a study schedule but let him decide which subject or topic he wants to study first.

Egg on your kid to read, read, and read –There's no better alternative than reading when it comes to training the intellect to process information and concepts quickly and with greater effectiveness. Students, who develop the reading habit, acquire the ability to understand and learn all kinds of subjects. Enable your kid to develop a lifelong interest in reading by reading out to him and telling him to read back to you.
At Ziyyara, we have observed that there's a huge mismatch between what is proposed to be taught at schools and what is actually covered. Consequently, students have a hard time completing their curriculum just before the exams are due. Ziyyara has employed highly qualified and experienced tutors who strive to close this glaring gap as much as possible by making the learning process simple and exciting at the same time.
Our tutors resort to the following ways in order to enable students to deal with subjects and topics they struggle to understand at school:-
They set achievable goals for students to achieve for every subject

They set out the learning objectives before starting a teaching program

Help establish and foster a learning culture

Makes the entire learning experience engaging and fun with game-based learning

Explaining the significance of visual learning

Inculcating a reading interest

Making the students realize the importance of self-study

Tracking progress from time to time
Conclusion
It does not need to be emphasized that all parents want to ensure a secure future for their children. That being said, majority of parents are anxious to find out and make sure whether their offspring are learning. As a parent or guardian, it is not only enough to understand how your child is studying and learning but extremely crucial as well.
Ask yourself the following questions to get a fair idea of how and in what ways your child is learning. You can also discuss the topics with your kid, his or her school teachers, and home tutors.
In what way or ways do you think your child is most amenable to imbibing new information? (through pictures and images; via reading and writing or by observing other kids)

Which environment(s) stimulates your kid to learn quickly and effectively? (Outdoor or indoor? Group discussion or one-to-one sessions? )

Which subjects are your child's favorites? (Does your kid prefer to study geography and history over maths and physics or vice versa? Why is it so?)

Does your child prefer studying early in the morning, right after coming from school, early in the evening or after supper?

Is your child in his or her elements when studying with siblings or working alone? Does he or she prefer a calm and quiet environment or likes listening to music while doing homework?
Children and adolescents pick up new information and learn by observing, hearing, asking questions, exploring their immediate environment, and conducting experiments. Taking an instinctive interest in how your child is learning and discussing with his teachers about the issues he might be facing will surely help the little one to learn more effectively. You can bet your child will become a self-motivated learner and improve his performance in the long-run provided he receives your undivided support and encouragement.
Regsiter today to enroll your kid at our online tutorial platform
Ziyyara provides one-on-one tutorial classes supervised by exceptionally qualified and experienced tutors and instructors. Over the years, we've cemented our reputation and goodwill in offering quality web-based tuitions via our interactive learning software. Contact us at --- or send an email to ----for complete details.