Does Age Criteria Matter In Tajweed Learning?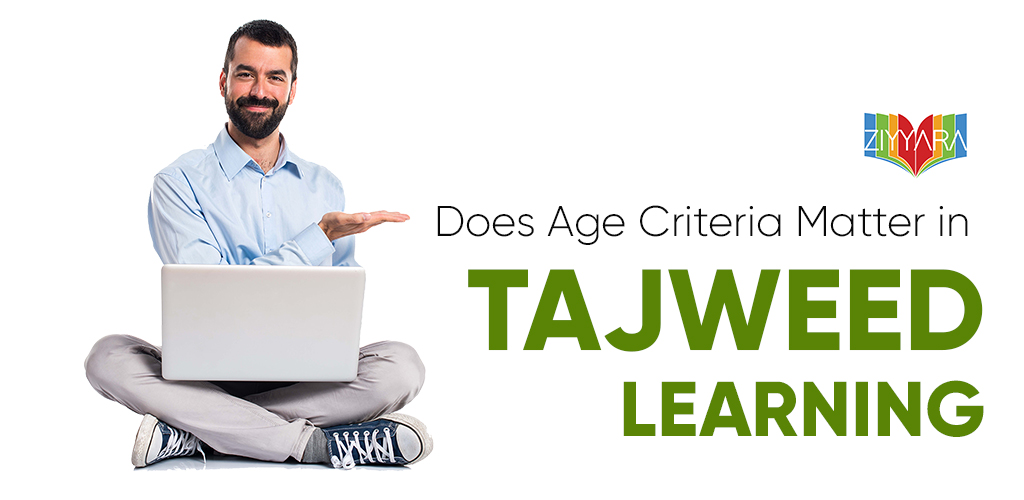 Post On. <->24-June-2022->
Get Free Demo for Online Tuition
In today's time, online tuition classes have become a norm. People worldwide are interested in learning about different cultures more than anything else. One such way to learn about Muslim cultures and traditions is Tajweed.
However, there is a prevalent misconception that you should be of a specific age to attend Tajweed online tuition classes. Is it really true? We will try to unsolve this question here. But before getting into that, let us have a basic understanding of Tajweed.
Tajweed: A Holy Way of Reciting Quran
The Arabic word 'Tajweed' refers to improve, beautify, and make something better. It even adds beauty to the holy book Quran.
With our quality online home tuition, you can recite the Quran in its purest form, Tajweed. It is a set of linguistic and pronunciation rules that one must follow when reciting the Quran.
● Mastering Tajweed would mean that you would read Quran the same way the prophet Muhammad did.
● Therefore, it is vital for all people following Islam to learn Tajweed, no matter the age.
The beauty of the Quran is that you can't read it like other books. Every letter, word, and sentence should get recited with proper pronunciations. You just cannot afford to read the lines in a hurry. Complete attention should be given from the reader's end, which you can learn from our online tuition.
Why Should I Learn Tajweed?
Learning Tajweed will provide you with multiple benefits. According to the Islamic tradition, a person who masters Tajweed gets:
● To live in a high place in the Hereafter.
● The company of the noble obedient angels in the Hereafter
● A more pleasing knowledge of the holy Quran
● To understand how to recite Quran
● A deep understanding of the message conveyed by the verses'
● Eternal good deeds for reciting the Quran correctly
Furthermore, a person who learns Tajweed can easily read Arabic words. They do not face much difficulty and can avoid confusion. Therefore, you should understand and try to master Tajweed. With our affordable online home tuition, this journey of learning the art of reciting the Quran becomes easy.
Should You Be of a Specific Age Group to Learn Tajweed?
The answer is No! You need not have to be of a specific age group to learn and master Tajweed. If you are in the initial years of your school life or retired from your job, you can enroll in Ziyyara's online tuition.
Our course provides you with the best-experienced tutor for an interactive online tutoring experience.
However, our primary focus is more on children as the age of social media has made them lose touch with the holy Quran. Therefore, it becomes essential for them to fall in love with the Quran and Tajweed in their initial stages.
Before you enroll in our online tuition classes, you should keep these things in consideration:
● There's no age limit to enrolling in our course. We believe that a person can master Tajweed at any age.
● Our course gets divided into different levels. You can choose at what pace you want to learn Tajweed.
● Our qualified tutors will provide online tutoring through live interaction classes. Here, you will have a complete space and freedom to ask your queries and get instant answers.
Choosing the Best Course to Learn Tajweed
A person cannot risk their time and effort into enrolling in online home tuition that does not provide value. That is why our Tajweed course was structured to cater to the needs of the students. We are proud to say that our online tuition contains all the necessary features a learner can ask for!
The features that set us apart from the market include:
● You can enroll in our online tuition classes at affordable prices. Most sections of society can easily register to learn Tajweed without giving it a second thought.
● As mentioned, we provide our learners with teachers on par with the international standards. Furthermore, the schedule for the online tuition classes is flexible. Learn from anywhere and at any time!
● Our live interaction lectures give learners the exposure they need to grow. Online tutoring also creates a positive learning experience for the Tajweed learners.
● Students also get full access to the expertise our qualified tutors have. Furthermore, we will also give them access to all resources they need to master Tajweed.
● We strongly believe that a student should spend more time with their Tajweed instructor. They can ask their queries and enjoy their time attending our online home tuition. As a result, students will see an improvement in their test & exam scores.
● Since we provide online tutoring, a student gets to learn Tajweed in the comfort of their home. This way, parents can also see the progress of their children.
All these features are exclusive to all the children and adults enrolling in Ziyyara's online tuition classes. Furthermore, if you are not sure about registering for the course, you can even take a free demo class. It applies not only to Tajweed but to all other subjects we provide.
The Bottom Line
As mentioned, Tajweed is the proper way to recite the Quran and glorify its beauty. Learning Tajweed yourself can become challenging because it requires high concentration and effort. This is where quality online tuition like ours steps in.
Our structured course will help you learn it with efficiency and understanding. To understand Tajweed, you do not have to worry about age. Why? Because it doesn't matter what age group you belong to. You can learn and master the art of reciting the Quran, no matter your age!