Can online learning fulfill every student's need?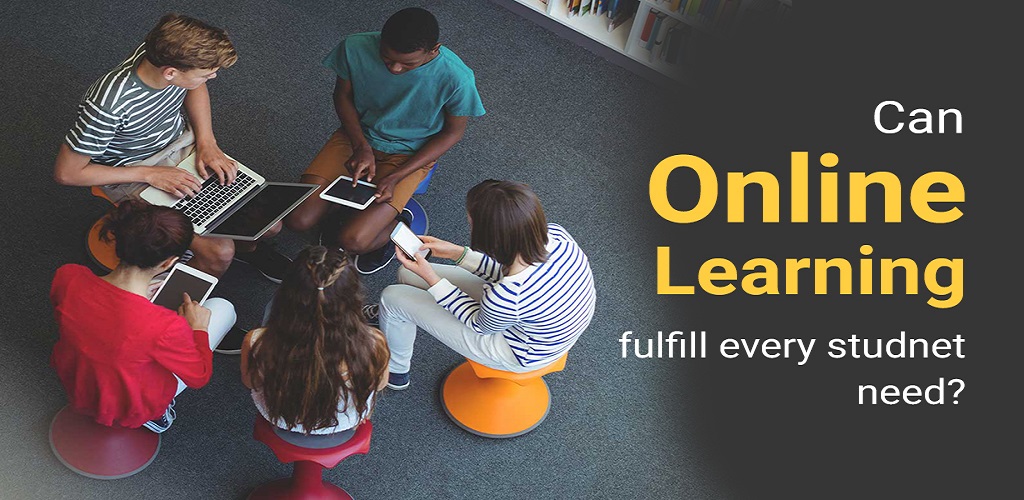 Post On. <->10-July-2020->
Get Free Demo for Online Tuition
Technology has transformed the way education is imparted these days. Online education is a mode of teaching and online learning wherein the tutor and the learner make use of the internet as well as a mobile device to interact with each other. Online learning in the world has been able to encompass a wide range of learners and not only the school-going or college-going students. Even the businessmen, housewives as well as disabled people continue learning by using this method of learning. This simply implies the fact that online classes for learning accommodates the needs of all types of students in an effective manner.
Online education is able to meet the needs of all students by offering several techniques and methods that make home tuition learning and teaching efficient and effective. This form of education meets the needs of not only students of elementary, primary and higher education levels but also the disabled ones. Students of all levels can make use of the courses and materials offered by this form of education. Ziyyara Edutech for instance offers online education in varied subjects for students of not only elementary level but also for those appearing for their CBSE board exams.
There are several ways in which online learning meets the needs of all types of students thereby making it a favored method of learning as well as teaching.
Offering lessons for all types of learners: learning Classes online accommodates the needs of all types of learners whether they are students or office-goers by making available a wide variety of courses specifically created for such students. In addition, the educational content can be accessed, shared as well as viewed by these students in a very easy manner and that too at any time.
1. Flexible schedule:
Online education or online learning offers the biggest benefit in terms of flexibility. All types of students can take the classes as and when required and any number of times. In addition, the lessons can be taken as per the schedule of the students so that they can study with greater concentration and as per their comfort. For instance, there are many online platforms that offer weekend classes for office-goers making it very easy for them to take the classes in a flexible manner.
2. Reduced costs:
online classes for learning classes are offered at cost-effective prices. This makes it possible for students from all types of backgrounds to access the online classes and take advantage of this mode of education. Further, the cost of travel is not incurred in this case because the students do not need to travel to any place and can take classes from their homes.
3. Wide range of tools:
Online education also offers classes and courses using a wide range of tools that can be used to take classes effectively by different types of students. There are many platforms that also offer tools that can be accessed and used for learning by disabled students. For instance, the use of special tools for online education students with different types of learning disabilities help to improve their learning and life skills.
4. Increased attention from tutors:
In online learning education, students are usually required to take one-on-one classes with their tutors and therefore the tutors are able to pay more attention to the unique needs of all types of students. This makes it possible for this method of education to meet the educational needs and requirements of several types of students. Ziyyara Edutech for instance offers one-on-one online learning sessions to students wherein the teachers help students understand the concepts related to various subjects. The students can ask as many questions and clear their doubts making it possible for the tutors to meet the needs of the students.
Though learning Online classes is able to accommodate the needs of all students yet there are many who state that online learning in India is not able to meet the needs of all types of students. This is true specifically in case of students who reside in remote areas where they are not able to access the internet or do not have the required mobile devices to take the online tuitions. These students may not even know how to use the technology in the right manner to facilitate online classes. This makes it difficult for these students to take advantage of learning Online classes and fulfill their educational needs.
In India, a large number of students come from rural backgrounds where the parents are not educated enough and not at all tech-savvy. The parents of these students may not be able to afford buying technology advanced mobile devices that their children can make use of. This is also true for many parents of students studying in urban areas. This makes it tough for the parents to help the students take Online tuition learning classes and such students are not able to opt for the benefits of online education.
Online education is considered ineffective and unable to meet the needs of many students because of the varied reasons. However, if online education is revamped, it can be used to help meet the needs of all students. For students, online education can be a great motivator to help them complete their assignments and do well at an academic level.
With online tuition classes, students can form study groups and discuss their issues and problems and learn from their peers in a more effective manner. This will also help the students to develop interpersonal relationships and life skills that can further help the students to do better in life. The development of such skills are important learning needs of all students.
learning Classes online apart from being in trend these days is also one of the best means of motivating the students to keep learning Classes online in an efficient manner.