10 Essential Tips for Weak Students to Become Intelligent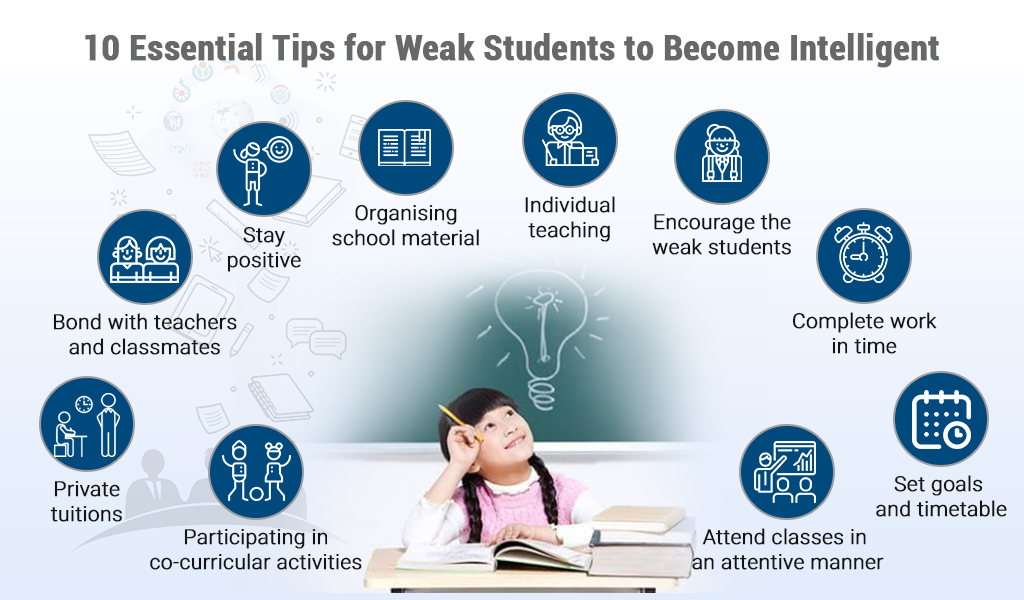 Post On. <->26-Mar-2021->
Get Free Demo for Online Tuition
Learning by students must be done in an effective manner so that they can perform well in school. In school, however, not all students learn the same way and the learning needs of every student are unique. Also, learning depends on the effort that teachers and students put into learning. Intelligent students often do not need to put in a lot of effort to learn in an optimal manner whereas weak students need to learn the same thing over and over again to be successful.
Weak students generally look up to the intelligent ones to know how they learn and what they do to excel at academics. Intelligent students do not study different content; it's just that they do things differently to be successful at academics. Intelligent students pay attention to what is being taught in school as well as at home and also study on time. These students also have a positive outlook towards studying and do not shy away from studying rather they put in extra time to study. This is as opposed to what weak students do.
Ziyyara Edutech believes that weak students can also excel at academics if they pay attention to their studies and put in enough effort into the same.
Here are some essential tips that can help weak students to become intelligent:
1. Organising school material:
To make it easier for weak students to study and pay more attention to what they are studying, they must organise all their essential school material according to their subjects. This saves time which is otherwise wasted on looking for things here and there and also enables the weak students to study with more concentration.
2. Individual teaching:
Weak students usually do not understand what is being taught in an easy manner unlike the intelligent ones. To ensure that the weak students understand what is being taught, teachers can pay individual attention to the students and teach them in school in extra time. This helps the weak students to grasp the concepts in a better manner and they can become better at their academics.
3. Encourage the weak students:
Parents as well as teachers of weak students must make sure to encourage these students so that they can stay motivated to study and perform well. Ziyyara Edutech opines that when weak students are scolded and not appreciated for what they do, they get demotivated and disengage from studying. Encouraging the weak students gives them the confidence to perform well.
4. Complete work in time:
This is a great tip for weak students so that they can perform better. Weak students usually do not complete their class-work or home-work in time and therefore are unable to understand the subject-related concepts. If these students complete their work in time, they would be able to understand what is taught in the class and will not lag behind in their studies. This would further make them do well in their academics.
5. Attend classes in an attentive manner:
Weak students to perform well academically must attend classes in an attentive manner. When they pay attention to what is being taught in the class, they register the concepts well and are able to compete with the intelligent students.
6. Set goals and timetable:
Weak students must make sure that they set goals to achieve and follow a timetable to do so. Setting goals motivates the weak students to achieve them and they therefore study in a better manner. Following a timetable ensures that the weak students study all subjects and not just one.
7. Stay positive
It is important for weak students to develop a positive attitude towards studying as well as school. Research states that weak students do not like to attend schools and do not like to study as well and have a negative impression of both. These students need to develop a positive attitude and must be motivated to attend school and study by offering them some incentives.
8. Bond with teachers and classmates:
Weak students shy away from teachers as well as their classmates in school. This is because they feel that they will not be heard or paid attention to. However, this is a wrong notion and weak students must try and develop bonds with teachers and their classmates so that they can discuss their problems whenever needed. In addition, this also makes the weak students wanted and keeps them engaged in their studies.
9. Participating in co-curricular activities:
Weak students must participate in co-curricular activities as these activities make the students develop a bond with other classmates and also channelizes their energies in the right direction. These activities also enable students to put their brains to work and make them smarter and sharper.
10. Private Tuitions
Another tip that can help weak students perform well is to make them attend private tuitions from expert teachers either online or offline. Ziyyara offers private online tuition to weak students by expert tutors and helps these students understand the concepts better and practice these concepts using mock tests and assignments. This helps the students to perform better in school as well.
Therefore, weak students too can perform well provided they are given the right direction and guidance by their teachers and parents.
---
Our Tutors