5 Reasons to Learn Something New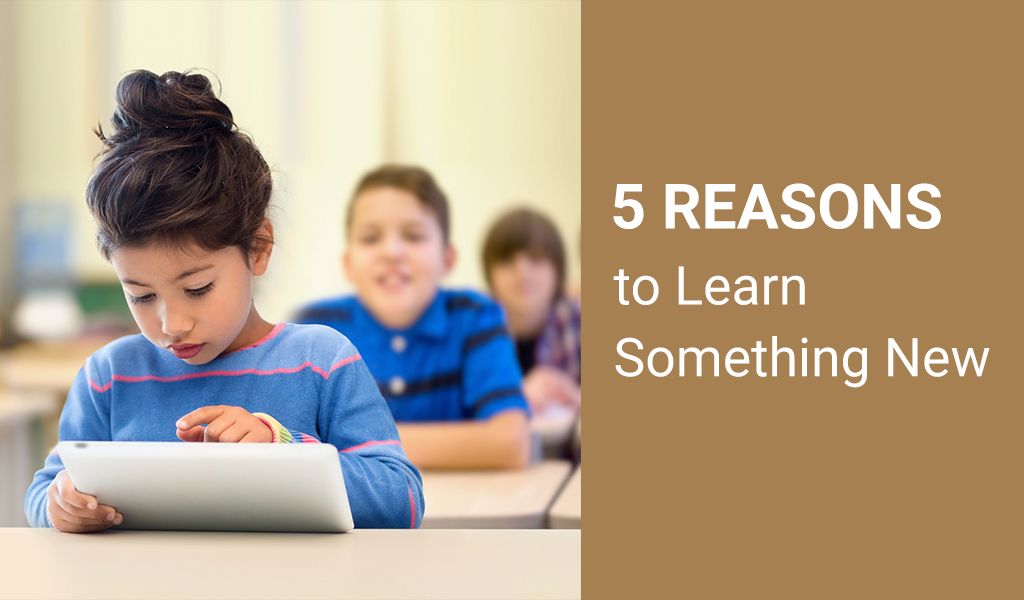 Post On. <->29-Sep-2020->
Get Free Demo for Online Tuition
The journey of learning a new skill is the one that inspires new ways of thinking, providing new insight and perspectives. It's a challenge that can twist your brain and make you think in different ways, improving your problem solving skills and equipping you for any challenges you may face in the future. At Ziyyara we understand how exciting, as well as how beneficial learning a new skill can be, and we want to tell you that if you have ever considered of taking this step it's a great idea, and with our quarantine protocols and potentially more time on our hands now is the best time to begin. Here's why.
1. There are worse things you can do with your time
Let's face it, the rise of digital media trends are programming us to become a population of increasingly distracted couch potatoes, to different degrees. We have so many reasons to be passive consumers sitting on the conveyor belt of life passing time as time passes through us unobserved and unacknowledged. We have Netflix, social media, and entertainment that will keep us engaged but this is not actually that productive.
But we are conscious, intelligent beings. Right now is one moment in an evolving lifespan. And perhaps there are better ways to spend our time and better ways to utilize each moment. Let us ask you this. What have you done today to grow as a person? What have you learnt, produced, or achieved? What steps or efforts have you taken towards your dreams?
When we face the grim reality of our mortality we realize the urgency of making the most of our time here. The scary truth is that we are not infinite. Our dreams will not wait forever. Gorbachev said 'if you don't move forward, sooner or later, you begin to move backwards.'
Our lives are not frozen in time, but constantly keeps moving. And to keep up with its pace we must move with it; forward, learning, evolving and growing.
And so at Ziyyara, we urge you to use your time productively.
2. Train your brain
There are many benefits to learning a new skill. Our favorite is the way a new skill trains your brain to think in different ways using its different parts, creating new pathways and increasing your problem solving skills. We are, after all, highly functional machines that need to be utilized in order to reach our optimum. The process involved in learning something new stimulates neurons in our brains, tuning our abilities so that our minds are functioning at their very best, keeping us at our sharpest even if we get older.
3. Thrill of a new challenge
Learning something new is exciting. Discover the entire world as you dive into the thrilling journey of learning a new skill. Learn the piano, learn coding, digital music, painting, algebra, and unlock new parts of your brain as you discover new new magic in the world. Experience new challenges and rewards. Discover the joy of playing your favorite song on piano or composing the music in your heart. Create amazing things and fill your heart with wonder, joy and an incredible sense of accomplishment as you learn a new skill.
4. Confidence
The confidence in overcoming new challenges of learning a new skill opens the doors for us to face new challenges in future with confidence and grace, equipping us with an unshakable self belief and confidence in our ability to handle unfamiliar situations and learn new ways of dealing with things no matter what. As Sloane Stevens said, 'when you have confidence, you can do anything.'
At Ziyyara we understand that confidence and success are interrelated, and that self belief is critical when achieving your dreams. If confidence is the one thing you take from the skill you've learnt (even if you stop learning the skill afterwards), the confidence learnt from this is something that you will keep with as you move forward in life, and it is surely something that will help you with your future endeavors.
5. Discover a useful skill or your true calling
You might discover your magic and true calling in life. Maybe you are a writer and discover you have an uncanny ability to play the violin. Or you might learn a skill that will be useful to you. You can save a lot of money by learning necessary and useful skills that you would otherwise have had to oursource. Learn coding and you can build your own website without outsourcing. Learn to paint and you can paint your walls yourself. Improve your writing and you can write your own biography. Learn cooking and you can make your own delicious meals. There is always something new and useful you can learn.
So you see. There are many benefits to learning a new skill. So why not learn something new with Ziyyara today.