Government School in Oman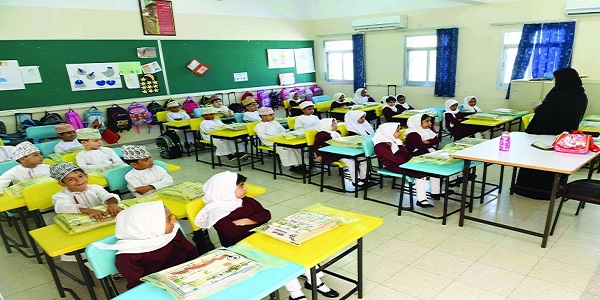 Post On. <->11-Dec-2019->
Get Free Demo for Online Tuition
Government school in Oman is free of charge in Oman for Omani children of grade 1 to 12. The government of Oman has focused in the last 30 years to increase the number of students who are attending school. Before 1970 there were only 3 schools in Oman with 900 students and no secondary education nor higher education. For secondary education selected students were sent either to Bahrain, Kuwait, or Egypt. As a result, most of the year 15 and below are now attending school in each part of the Sultanate whether in a city or in a remote village, on the coast or the mountain.
The subjects taught in Arabic in Oman government school are Islamic Studies, Arabic Language and grammar, Social Study, Mathematics, all science subjects such as Physics and Chemistry. Only English language is taught in English. Twenty years ago, most of the teachers teaching in government schools in Oman were from Egypt, Jordan and Morocco. Today all the teachers are Omani graduated from various educational colleges in Oman. The teachers in private school in Oman are a mix of Omani and foreigners. In private school where most subjects are taught in English the teachers are mainly foreigners from countries such as the UK, South Africa, New Zealand and Australia.
Expat's can also attend government school in Oman; however, the syllabus is in Arabic. In addition Omani students can also attend private schools which do not teach Arabic such as the British School or the American School, however permission is needed from the ministry of education which might take several years and a proper justification is needed.
For example, the number of students in the 2006–2007 academic year in Oman was approximately 560,000 students attending 1053 public schools in various parts of the Sultanate.
Public school education in Oman is subdivided into:
Basic Education:
Grades 1 – 4: Both boys and girls students attend the same class. Majority of teachers in these grades are females.
Grades 5 – 10: There is a specialized school for boys and others for girls. For boys, the teachers are male and for girls the teachers are females.
Post-Basic Education (Grades 11-12):
| Class 1 - 4 | Class 5 -10 | Class 11 – 12
Total student | 151,400 | 166,600 | 16,900
Average per class | 37,850 | 27,770 | 8,450
Table 1: Number of students in 2018 - 2019 calendar year in both government and private schools in Oman.
Government expenditure per primary student in Oman is US $ 5000 in 2016 (1900 Omani Rials per student). Given the expenditure per student in Oman is high, Ziyyara don't see the point of attending a private school in Oman unless you can well afford it or if your employer is covering the cost. On the other hand, the quality of education in some private schools in Oman are much higher than the government schools in Oman. Not all private schools in Oman are the same, some are at a high standard with high qualified teachers such as the Sultan's School or the International School of Choueifat.
There is a high number of private schools in Oman that are not up to standard, for example the school is in a house, it lacks the sports facility and other children entertainment such as a playground and sports field. I will recommend for parents to shop around for the best private school in Oman. Ziyyara could help you in making such difficult decisions according to your budget, and location.
Ziyyara's one-on-one learning in Oman has proved that online learning can increase the student learning per hour and expose the student in more challenging situations, problem solving and thinking of the box. Ziyyara can improve your child's education especially in difficult subjects such as writing whether in Arabic or English or Mathematics.
We strongly believe the students in Oman should supplement their learning with one-on-one targeted learning especially in subjects such as mathematics and English language given the mother tongue of the Omani student is Arabic.
At Ziyyara we cover all the subjects as per Omani curriculum, we have teachers locally and abroad to suit their academic needs, all of our teachers are qualified to teach the Omani syllabus and prepare the students for their final grade 12 examination certificate (thanawiya amma).
The secondary certificate for the Omani student is the getaway for further education, career, and progression. With low grades it is difficult or almost impossible to get a scholarship or be accepted in University scholarship abroad where competition is enormous around the world.
At Ziyyara we have a track record, we have the teachers, we have the experts. All we need is your dedication. Feel free to book a free demo and we can design a class to fit your needs and not one size fit all.