Why Online Tuition are Gaining Popularity Among Oman Students?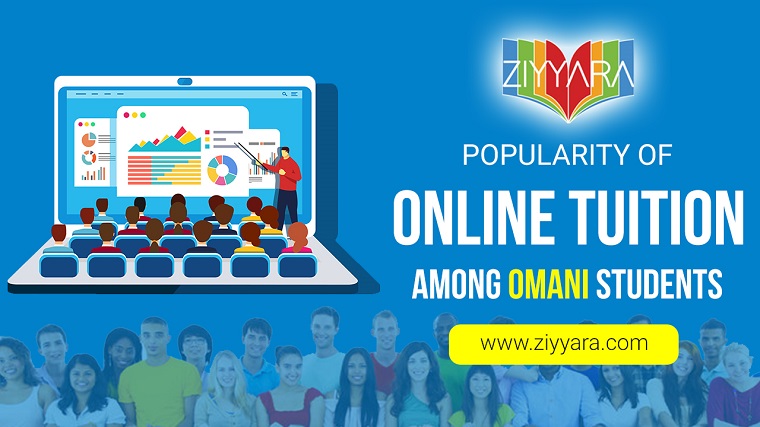 Post On. <->28-Aug-2020->
Get Free Demo for Online Tuition
Oman, a nation of the Arabian Peninsula, has desert, riverbed, oasis and long coastlines on the Persian Gulf. Its capital is Muscat. The official language of Oman is Arabic but English is a popular language there and is a second language in many Omani schools.
In fact at present English, rather than Arabic, is the language of instruction in many Omani schools and colleges.
In Oman, distance learning through an online format was introduced almost five decades back but the content and quality of education imparted was not of international standards. It gained popularity only around mid-1990s when the quality of programme designed for students were gradually improved. With greater access to internet, many colleges and universities started introducing distance education courses in the higher education system. People of Oman realized the benefits of online distance education.
Omanis, once a society limited by time and distance, started developing in the field of education as more and more people enrolled themselves in graduation and post-graduation courses. Earlier, Omani colleges used to have limited enrollment of students because of limited classroom facility. Presently, distance learning has made it possible to offer more seats to students who otherwise would have been deprived of education. Distance education in Oman is called 'E- learning'. It aims to provide training and education programme via the internet. There are two types of E learning systems in operation: virtual classroom system and self-learning system.
The self-learning system in Oman is the most popular form of distance education system among students. Under this system, students are given number of assignments. They are given a due date by the instructor to complete these assignments. Students can then work at their own pace and convenience to finish them. This system provides opportunity to get education even to those who are employed or those with other responsibilities. Students who would otherwise find it too difficult to attend regular classroom sessions due to shortage of time get the opportunity to pursue a degree, without having to travel to the college or university on a regular basis. Once assignments are complete they are returned to the tutor, who evaluates the work and give feedback to students. According to a survey over 80% of students in Omani Colleges and Universities opt for online education. This percentage is increasing over time.
The school education in Oman is free throughout all three levels of school, Primary, Middle and Secondary. First six years of basic education in schools is followed by three years of middle education. At this stage, depending upon their grades, a student can leave the school to work if he wishes so. His education is considered as complete and he can seek work according to his abilities and qualification. Online education comes as a big help to such children. It provides them an opportunity to continue studying while they are earning. They may join online classes as per their work schedule.
This helps them to keep pace with the fast moving world by enhancing their educational qualification.(www.scholaro.com) Online tuition refers to the practice of taking lessons, either as an individual or in a group, from teacher(s) at distant and different locations using computer based technologies. It is an interactive medium of instruction where both the teacher(s) as well as student(s) from different parts of the world come together to study. It actually means one can take lessons from anyone anywhere while sitting in the comfort of his home.
Present time is the best time to take online tuition given the access to ever increasing latest options and technology. There seems to be no end to ever growing popularity of online tuition. Online tutors, besides helping students in their school studies, also prepare college students for various competitive exams like medical, Engineering etc. Furthermore, students applying to various foreign universities are able to get online tuition of syllabus being taught in those places. Hence, we can assert that previously it was not as easy to get educationally qualified as it is now. Access to expert knowledge from the best of tutors across the world comes handy. Students get coached in requisite subjects as per their requirements from the comfort of their homes.
Online tuition in Oman become all the more significant to get help in studies because private tuition are not allowed there. As per the law of Oman, private tuition violates the rule 39 of the CBSE Affiliation byelaws, said the Board in a statement. "Law of the land in Oman has also made it illegal to have tuition centres at home as it involves concern for the safety of children that cannot be taken for granted in such centres." Teachers of Indian schools in Oman have been intimated that severe punishments will follow if they are caught taking private tuition.
The cities of Muscat, Seeb and Salalah have best schools of Oman many of them cater to expatriate population. There are many public and private schools in these places. The curriculums followed in these schools are those recommended by CBSE, ICSE, and other international curriculums. American International School, Indian School Muscat and American British Academy are the topmost schools of Oman providing quality education to students. However, school studies do not always clear doubts present in the minds of students and if these doubts are left unattended they can affect the grades of students in future. Students need to get an in depth knowledge of the subjects. This is one of the reasons of growing popularity of online tuition in Oman.
Online classes not only cover primary and secondary school curriculums but also enroll students for special coaching for different competitive exams. These classes combine the interactive live technology with the best personalized tutors around the world to render quality education.
The online tuition are available for almost every subject for major Boards like ICSE, CBSE, IGCSE and other international boards. These tuition are customized according to students' needs. Before registering any student, the online portals carefully evaluate the strengths and weaknesses of each student and make out a customized study plan for each. Student studying in an online class has the safety and security of the home environment. The online programmes made for students are well structured and properly designed by experts. The courses are designed keeping in mind student's needs, time duration, topics to be covered, teaching pace, learning pattern, grasping power of student schedule of classes etc. They strengthen the basics of the students in the concerned subjects. Students can email their problems or queries to their tutor and a detailed step by step solution of their problem is provided by the tutor.
Moreover, tutors share images, presentations, animations, documents etc while teaching students. It makes learning an interesting experience. Tests are conducted to monitor students' progress at regular intervals. The syllabus is regularly updated to keep abreast with the latest trends in the field of education. Free trial classes can be availed by students before joining the online course. All this goes a long way to build up a strong foundation of students.
Some of the Benefits of Taking Online Tuition in Oman Include
1. Native Language Teachers (Arabic & English)
If you are looking for online tuition in Oman, then you can easily get tutors who are efficient in providing teachings in both the Arabic and English language. Most of the online tutors are experts in Arabic & English speaking and belong to countries like Egypt, besides coming from other countries like India. Since most of the people speak English in Oman, so mostly tutors who are experts in English are appointed.
2. 1-on-1 Interaction
Taking online tuition in Oman offers more flexibility to the students; the students can get a chance to take the classes from their homes, according to your preferred time slots and days. Moreover, online classes offer 1-on-1 interaction allowing the students to interact with their instructor at their own pace through the most effective digital learning platforms. According to a survey, more than 50% of the online students experienced improvements in their understanding post taking classes online. By the time you have completed taking your online course, you would have gained more work experience and learned new skills that will help you advance in your career!
3. Affordable price
Taking online tuition in Oman means you need to pay lesser tuition fees; also, no transportation fees will be involved because Omani kids don't go out as it gets hotter in a day. The students can get home tutors as well who come to their home thrice a day in a week, but home tutors would be quite expensive. By taking online classes, you only need to pay the school fees. In case you are planning to save money, taking classes online is a perfect solution as in the online classes, the students need to spend money only on those things you want to spend money on.
4. Holistic Approach adopted by Tutors
The Internet offers quick access to answers that are beyond what is being written in the textbooks. In fact, today's modern kids know the trick of "Googling-it" to get solutions to their questions. The growth in technology allowed the online teachers to offer a holistic view to the students, along with giving students the right guidance to get the right resources to study. In Online tuition in Oman, the teachers use the internet to teach their students the ways to assess the quality of the information they are looking at on the internet.
5. Teachers for all Subjects of All Boards
Let's admit the fact that tuition in Oman offers a wider option to the students to choose from different tutors. Studying online at your own comfort permits you to no longer worry about the location of the classes and teachers from whom you can take the classes. By opting for online courses, the students can stay focussed on subjects they are interested in and have the freedom to select from the variety of online courses and tutors. No matter whichever subject you are planning to study online, including English, Math, Science, or something else, you can get tons of options that are just the right fit for you. And since more programs are included by schools each day, staying updated with the latest content is also important which is possible only in case you have the best tutors while taking online tuition in Oman.
Ziyyara's online tuition is not limited to Oman only, but to the students of Middle East too and our utmost priority is to help the students in improving their exams score. By taking tuition in Oman, the students can get the best online tutors that have deep knowledge of his/her subjects. Also, with the help of these learning apps, parents can keep a control of the academic growth of their child. The latest learning approach includes conventional learning models and modern teaching techniques. To meet the demands of the students as well to standardize the expectations of the parents, the online tutoring domains are working vigorously. This amalgamation of digital media and educational content has shown its worth with improved results and academic performances.
In case you also want to walk hand in hand with technology, so taking additional help in the form of online classes will help in achieving a milestone in one's life.