How Robotics and IoT Makes Study Fun for Kids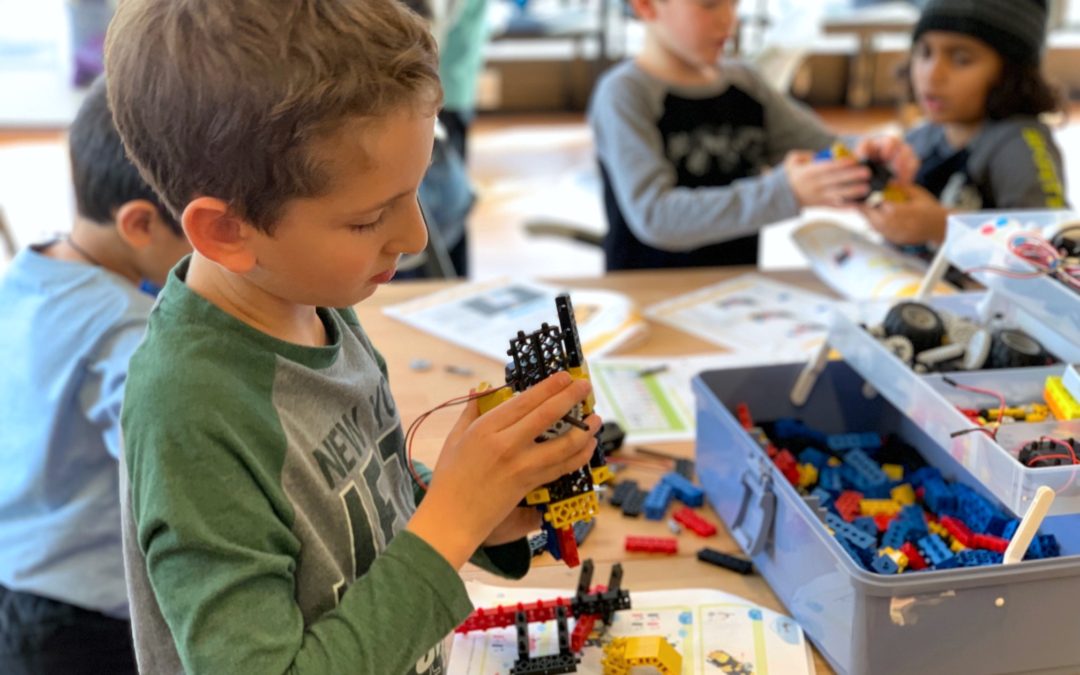 Post On.<->20-May-2020->
Get Free Demo for Online Tuition
Rapid strides made in the domain of internet technology have brought about unprecedented transformation in almost every sector of the economy. The advent of internet and the technology's steady and dynamic evolution has rubbed off on nearly every segment of trade and commerce, benefitting the economy as a whole. One of the groundbreaking advancements made in broadband technology-IoT or Internet of Things-has taken internet's versatility to an extraordinary level and to an all time high.
Of all the myriad commercial and industrial sectors that have reaped benefits from IoT's resourcefulness, the academic or educational segment is one of them. However, the education sector has been somewhat sluggish in adopting IoT in comparison to other areas like financial services, healthcare, manufacturing, and home/industrial automation.
Nevertheless, educational institutions all over the world have woken to up to the need to embrace and leverage this dynamic and emerging technology. Schools, colleges, universities, and all other types of academic establishments are slowly but surely realizing the importance of adopting IoT and introducing the technology in their everyday teaching methodologies. IoT has imparted an entirely new dimension to the physical learning and teaching environment in general, and the traditional classroom education in particular.
IoT is adding to the adaptability and usefulness of the structured learning systems pertaining to the brick-and-mortar educational environment. Internet of Things has paved the way for the mushrooming of smart schools taking optimum advantage of broadband technology for transmitting and receiving data, learning resources, lesson plans, projects, and other academic tools. Presently, increasing number of instructors is harnessing the potential of IoT for boosting the education system as a whole.
In fact, IoT which helps augment interconnectivity between different computerized systems is being tapped to transport the classroom beyond the four walls through e-learning software and digital devices. IoT's sweeping computational capacity helps set up a virtual school for helping create customized study materials and lesson plans for weak learners, keeping track of students' progress, and much more.
How Robotics is making education exciting and effective for kids
Another area or field of technology that has witnessed extraordinary progression in the past few decades is robotics. For many years now, robotics has seen all- embracing applications across multiple industrial segments including but not limited to medical/healthcare, transportation, aviation, engineering, and manufacturing. And robotics is now making fast inroads into education and all its associated segments.
The effective utilization of simulation technologies and robotics has gone a long way in facilitating the dissemination of conventional educational resources beyond the boundaries of a physical educational environment. The benefits ensuing from the applications of simulation and robotic technologies in the sphere of education are there for all to see.
These technologies are helping promote day-to-day learning and teaching as well as enabling children with special needs and learning disabilities to become erudite. To put it in perspective, simulators and robotics are bringing about a paradigm shift in the ways kids and schoolchildren are learning by making education more enjoyable and result-oriented.
Demystifying Robotics
There used to be a time not very long ago when robots, automatons, humanoids, and simulators were visible only in sci-fi movies. R2D2 and BB-8, the first non- anthropomorphic robots that played key roles in the sci-fi movie, Star Wars, kindled human interest in humanoids. BB-8 and R2D2 pioneered extensive research in robots, eventually leading to the evolution of robotics- a new interdisciplinary branch that was grouped under 'computer science and engineering'.
Robotics, as the term clearly implies, is an interdisciplinary branch of science and engineering that involves designing, developing, operating, and maintaining robots. Robotics is also an integral aspect of AI or 'artificial intelligence'-another crucial branch of computer science that basically deals with imparting intellect to computers. Robotics nowadays find all-embracing applications in several industries including but not limited to manufacturing, healthcare, financial services, transportation, and energy.
Robots also have gradually made a foray into the education sector with many educational institutions offering programs and courses in robotics. Educational robots are now helping kids and children in schools to learn complex subjects and topics in an exciting and thrilling manner. For instance, many schools, colleges, and universities use NAO robots for teaching STEM subjects as well as for making standardized education more effective.
Interplay between Robotics and Education: Benefits to Kids
Preschoolers, primary, and secondary school students can make optimum use of instructive robotics for developing and honing their learning skills. Mastering the basics of educational robotics, ultimately allows kids and schoolchildren to appreciate, evaluate, and use robots to good effect. However, picking up the nitty-gritty of robotics in a traditional classroom setting also benefits schoolchildren in numerous other ways.
Let us analyze how the interplay between robotics and education influences the latter, and benefits youngsters in the long run.
Helps develop and fine-tune skills that serve a lifetime
The skills that schoolchildren imbibe by gaining knowledge of educational robotics serve them for a lifetime. Robotics helps kids build up fine motor skills which in turn enable them to excel in every sphere of life as they grow up. To that end, instructive robotics can prove immensely useful in helping youngsters become supremely employable for the future job market.
The job or employment market per se has transformed radically over the past few decades and become extremely specialized. The traditional job positions that hitherto provided a livelihood to different generations in workforce in the past have become obsolete, and hence redundant. Jobs in the digital age call for aspirants to have highly specialized skills, and learning robotics helps students imbibe such skills.
Stimulates hands-on learning
The majority of preschools, kindergartens, secondary schools and high schools follow a standardized method of learning, listening, and evaluating learners through assignments and tests. However, a robotics program offers near unlimited opportunities for hands-on training as kids get to design robots, and imbibe programming skills. The practical learning experience also implies that the children get ample opportunities for applying the concepts they've learned, in real life.
Helps coordinate the responsibilities of teachers and tutors
More often than not teachers and instructors struggle to help students to understand their instructions. All the students in a classroom do not have the same learning abilities with some picking up the lessons easily while others have to put in extra effort. However, it is not possible for teachers to pay individual attention to each and every student in a classroom setting.
This is exactly where robots can step in and help coordinate the tasks carried out by a teacher. Of course, that is not to suggest that robots will serve as replacements for teachers and instructors. There are and there always will be some tasks that will call for a human touch and cannot be done by robots, thereby making teachers indispensable.
Robots can be essentially and are in fact being used for optimizing the time and effort learners devote towards studying different subjects included in their respective syllabi. Educational robots helping out kids and children with their studies also relieve teachers from the anxiety and stress of having to ensure that the pupils have understood the instructions. Robots can play a key role in encouraging students to take a greater interest in subjects they struggle to comprehend and grasp.
Students assisted by robots in their everyday studies, may develop a curiosity for knowing more and the habit of studying on their own.
Helps develop creative and analytical thinking skills
Children working in close cooperation with robots tend to become more creative and innovative. Robotics comes in perfectly handy to facilitate the nurturing and development of kids' critical and analytical thinking skills, eventually enabling them to quickly grasp complex disciplines, especially STEM. On the other hand, robotics helps develop and sharpen other crucial life skills, including interaction, project management, problem solving, and collaborative skills.
Robotics can aid in creating situations where learning becomes exciting and fun for all kids. When children study with robots serving as their assistants, their creative and critical thinking skills receive a boost. Kids building toy robots at home or in classrooms is very much akin creating different structures with Lego blocks-the activity sharpens their problem-solving aptitude.
Enables children with special needs to attend classes
There are innumerable differently-abled children and kids with special needs that are unable to attend school, despite their willingness. Robots can carry such children to schools and make them sit in classrooms alongside other students. Students who are recuperating following a surgery or suffering from grave allergies can also attend classes, thanks to the versatility of the robots.
Quite significantly, a student's personal robot can go to school on the former's behalf, and enables the learner to attend classrooms virtually through an integrated video conferencing system.
Learning programming becomes fun and easy
Educational robotics can help kids design, assemble, develop, and operate automatons and robots thereby reinforcing their learning skills. Young learners and children will have a tough time gaining knowledge about programming if they are instructed via the conventional modes. However, if they get the opportunity to interact with an actual robot, they'll not only be able to learn easily but their learning will be also more effective.
They'll find the engagement very exciting, thereby letting them understand the fundamental and electrical mechanisms entailing the interaction with robots. When kids acquire programming skills, they become adept in programming basics including multitasking, decision-making, program flow, repetition, variables, and commands. These programming concepts constitute the fundamental building blocks of almost all programming languages, and familiarity with these theories aids in learning any programming language easily in the future.
Good reasons why schoolchildren should pick up the basics of robotics
Following are some good reasons why kids and schoolchildren (and even teachers) should pick up the basics of robotics:-
Helps improve social interaction and empathy skills –Robots, besides serving as efficient instructors and tutors can also help inculcate social interaction and empathy skills in children. Robots are equipped with microphones, touch sensors, and superior speech recognition capabilities that stimulate good rapport between them and kids.

Equips students with the aptitude and skills for the prospective job market –Education, right from the primary up to the postgraduate/doctoral level has become more technology and job market-oriented. Students, apart from having an undergraduate or postgraduate degree will also need to complete a professional program for finding a job in the dynamic employment market.

To this end, learning robotics, artificial intelligence (AI), and computer programming will make them very employable in the future.

Enables children to learn computer programming quickly and easily – Teachers invariably face an uphill task in making preschoolers and primary school students grasp complicated computer programming languages. However, various studies have overwhelmingly demonstrated that hands-on training with robots can help kids to comprehend complex programming concepts with greater ease and more effectively.

Aids in the imbibing of complex and sophisticated technology – Picking up knowledge about robotics from an early age can be instrumental in arousing a profound interest in this discipline which will ultimately benefit them in future, both socially and economically.

Robotics can be very useful for kids with learning disabilities –Several studies and researches have clearly indicated that children with marked learning disabilities like dyslexia, ADHD, dysgraphia, and dyscalculia, learn faster and better when they interact with robots.

Picking up the basics of robotics could be entertaining and riveting – Kids will find the task of designing and creating robots, video games, and simulators very entertaining and fascinating. On the other hand, the DIY activities will also inculcate a spirit of healthy competitiveness, and facilitate the learning of computer programming.

What exactly is IoT?

Broadly speaking, IoT entails networking of a myriad of interconnected devices and gadgets loaded with sundry electronic components and application software. An IoT system or structure is set up primarily with the overarching objective of sourcing, compiling, processing, exchanging, and sharing near unlimited bytes of data (or information). Since its evolution, the Internet of Things has witnessed across-the-board utilization in industries, especially in financial services, manufacturing, healthcare, transportation, communications, energy, and retail.

IoT involves arming smart machines (think modern-day computers, electronic gadgets, and handheld digital devices) with sensors so as to facilitate interaction with each other. This interaction or intercommunication happens on a colossal scale through internet and LANs (local area network/networks). The vast potential and reach of IoT implies that billions of smartphones, tabs, PCs, refrigerators, CCTVs, and digital security systems could be interconnected through internet, transmitting data to and fro.

As per a survey carried out by Juniper Research Ltd, UK, devices linked to IoT, could nearly triple from 13.4 billion in 2015 to 38 billion units in 2020. The basic idea behind IoT is to amplify and universalize the machine-to-machine, machine-to-human, and human-to-machine interaction in the years to come. Exceptional strides made in 4G/5G IP (internet protocols), broadband technology, digital networks, and cloud computing have led to the internet infiltrating almost every facet of human existence.

Interface of IoT with teaching and learning

IoT is bringing about a revolution in the traditional educational system in the following ways:-

Boosting efficiency through improved streamlining of activities – There are several routine and mundane activities in a school or college that eat into precious study time. For example, students have to take down notes relating to different subjects on a daily basis. Additionally, every teacher or professor has to take attendance of the same batch of students on an everyday basis that is time-consuming.

Devices connected to IoT can collect, record, and transmit notes given by teacers to the institution's central server, thereby doing away with the need of human intervention. This collated data can be sent to students on their personal digital gadgets or devices such as laptops and smartphones. IoT-linked devices can also record attendance of students and transmit the data to the respective teachers.

Two-way information flow improves learning experience –These days, students do not only learn from conventional study materials such as textbooks and guidebooks but also from Wikipedia and websites of well-known publishers. These educational websites that integrate assessments, projects, videos, lessons, and animations, are device-friendly i.e. the portals can be easily downloaded on mobile phones, desktops, laptops, and so on.

The different devices can be connected to each other via IoT.

Educational Apps that take maximum advantage of IoT –Educational application software leverage IoT for creating textbooks with 3D graphics featuring animations and videos that allow students to write down notes.

How is IoT facilitating the advancement and evolution of education?

IoT could go a long way in helping to resolve numerous drawbacks and loopholes in the educational system:-

Helps improve security – IoT helps improve the security system of a school through the application of GPS tracking devices, facial recognition software, and remote RFID checks

Boosts interaction of humans (human-to-machine interface) with digital devices, thereby furthering the cause of education

Customized learning through individual monitoring and evaluation

Unlimited scope of collecting infinite data about students

Conclusion

Technology specialists, educators, academicians, teachers, and instructors are strongly of the opinion that IoT and robotics will be crucial for furthering the cause of education in future. On the other hand, both robotics and Internet of Things will make the entire learning process, incredibly stimulating and thrilling for students, especially the preschoolers. Almost all children have an innate talent for science, technology, engineering, and mathematics (STEM).

Educationists firmly believe that robotics and IoT could serve as ideal mediums to help kids channelize and streamline their creativity and curiosity for making learning fruitful, productive, and rewarding.